The heat pump is one of today's most popular renewable energy heating devices. There are different types of heat pumps that can produce heat more efficiently and at lower cost. Focus on the heat pump and the savings it can make.
Why install a heat pump in your home?
In addition to being expensive, fossil fuels are also problematic because they are not renewable. This issue has prompted more and more users to choose greener heating and air conditioning systems and respectful of nature. The heat pump falls into this category because it operates mainly on the basis of renewable energy sources. Indeed, it uses the calories contained in the air, in the groundwater or in the ground to produce up to 70% of the heating and domestic hot water needs of a home. Its cost of use is very low and its installation is eligible for several ecological aids. In addition, the other advantages of the heat pump are as follows:
Comfort in use
The heat pump is an autonomous and easy-to-use device, as there is no need for store fuel to make it work. It heats up quickly and does not generate an unpleasant odor, as is the case with some boilers. In addition, the heat pump requires little maintenance or control by a professional. The recommended frequency is once a year.
Stop fossil fuels
From an ecological point of view, heat pumps do not produce liquid or gaseous waste, which makes the evacuation pipe superfluous. This also means that the heat pump virtually eliminates emissions of carbon dioxide or other toxic gases from heating.
Heating at a reduced price
Many households are reluctant from the outset when they discover how much does a heat pump cost, but this cost, especially for geothermal models, is very quickly amortized in the medium term. Indeed, a heat pump uses a free source of energy. Except when it is used for auxiliary heating or when it is not able to cover heating and domestic hot water needs. In addition, there are many aids to reduce the budget for the purchase of a heat pump, which can save up to 70% of the total cost, including installation. There are a number of conditions that must be met to be eligible for aid. There are online tools to calculate the amount of aid to which you are entitled according to your profile.
An all-in-one device
The heat pump is a multifunction device, because even if it is above all intended to heat a room, some models can indeed be reversible and thus make it possible to heat water for sanitary use and even a swimming pool in certain cases. Thus, in summer, you have at your disposal an air conditioner and a heating in winter.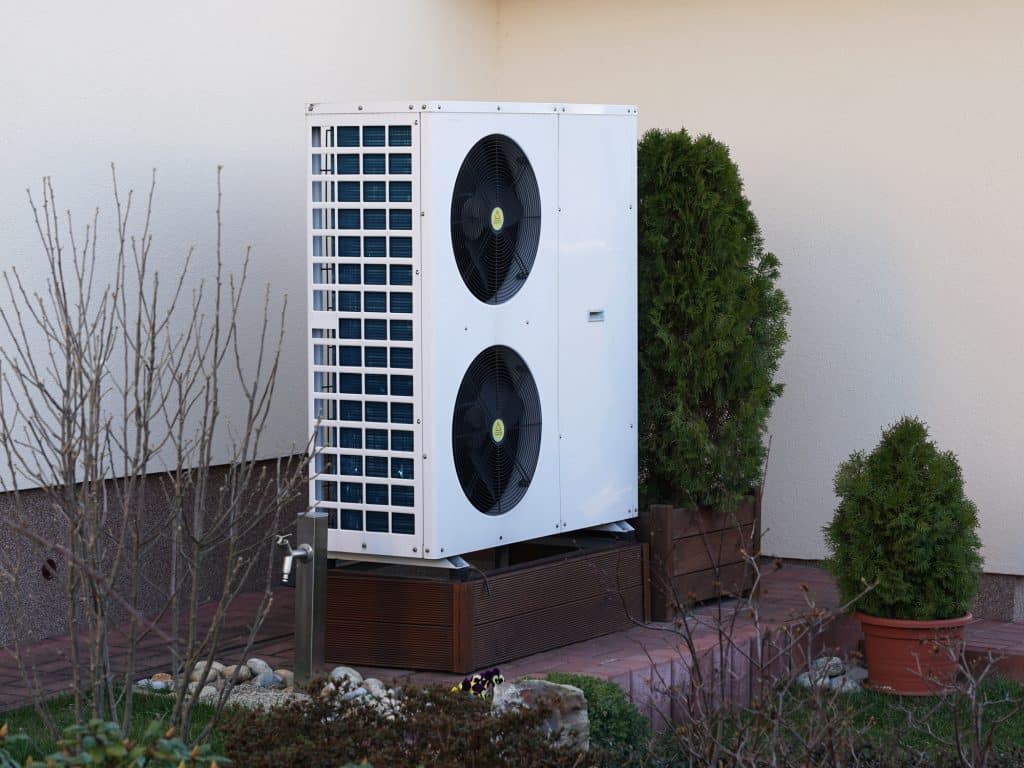 The cost of installing a heat pump
The heat pump, even if it displays a rather high price, is not the most expensive renewable energy equipment. Indeed, some appliances such as biomass boilers or hybrid wood and pellet boilers have prices reaching €20,000.
Furthermore, the price of an air-to-air pump can go below €7,000. With an air-water or ground-water heat pump, the starting budget to be expected is €11,000 on average. Prizes are capped at €16,000 for an air-water heat pump. However, the cost may increase if the installation of the capture system proves difficult, in the case of a geothermal heat pump.
Heat pump installation: are you entitled to aid?
If you replace your oil-fired boiler with a heat pump, you can benefit from numerous aids such as "Ma Prime Rénov'", which replacesnt the Tax Credit for Energy Transition as well as ANAH's "Living Better" grants. Aid is obtained as soon as the work is completed for modest and very modest households.
In addition, you can also benefit from the eco-premium by energy suppliers within the framework of Energy Saving Certificates, or the eco-PTZ or zero-rate eco-loan allowing you to finance up to to €30,000 as well as aid from local and regional authorities.
An easy-to-maintain heating system
The heat pump is very easy to maintain and is simpler compared to gas or fossil fuel boilers which must be cleaned and adjusted once a year, and this is mandatory. This is not the case with the heat pump if the quantity of refrigerant is less than 2 kg.
Which other economical heating systems to choose?
There are many other economical heating systems that are just as advantageous as the heat pump. There is for example the combined solar system (SSC) which works thanks to thermal solar panels as well as a storage tank. It collects heat from the sun's rays to heat the hot water circuit. It is the ideal system for heating and producing domestic hot water in regions where sunshine is optimal, such as in the south of France for example.
Inertia radiator
If electric heating has not always been synonymous with thermal comfort because of its convectors, today's models are more efficient. Indeed, the more efficient electric heating modes such as inertia radiators are cleaner and better for the environment. They are made from a refractory material that can store heat and radiate it even when the device is switched off. Inertia heaters are energy efficient and require minimal maintenance. Their price ranges from 150 to 1,200 euros, installation included.
If you live in an apartment, it can be difficult to install a biomass boiler, as there is usually not enough surface area. In addition, it is also not possible to use the heat pump because its installation requires an outdoor unit that can make a modification to the facade. In practice, it often proves more economical to choose connected inertia radiators which allow you to modulate the heating according to your lifestyle. According to Ademe, it is possible to achieve up to 15% energy savings if you install a thermostat connected to your electric heating.
Connected radiators
Among the most economical electric heaters, there are also connected radiators which are equipped with a programmable thermostat. They can be controlled remotely and allow significant energy savings.
Very high energy performance boiler (THPE)
You can also choose a boiler with very high energy performance (THPE) which offers optimal comfort of use as well as better control of energy bills. In fact, the efficiency of the boiler at very high energy performance is greater than 100%, which guarantees significant energy savings while limiting your impact on the environment. It is important to note that new homes can no longer be equipped with this type of device since January 2022.