If you plan to renovate this most important room in your home, you are advised to install a splashback. The latter plays an important role both in terms of protection and aesthetics. You just have to make the right choice to offer an original touch in the kitchen. The ideal is to opt for patterns that can harmonize with your overall decorative style. But a credenza also serves to protect the wall from splashes. How to choose the right backsplash for your kitchen? Discover foolproof tips and interesting ideas to find the right answers to this question.
Opt for a kitchen splashback according to its dimensions
Well selected, kitchen splashback remains an essential element to sublimate the room. It is mainly used to protect your wall from dirt. The splashback is essential to ensure the protection of your wall against splashes of water or grease.
You need the right dimensions to properly cover the wall, countertop and furniture above. Indeed, the credenza finds its place behind the worktop, on the cooking area. It is present therein in the form of a coating or plate. The splashback must therefore be sufficiently resistant to high heat. You are also advised to only bet on a model that is easy to clean.
Regarding the height of your new credenza, you can choose a low or backsplash model. It is preferred if your wall does not require a lot of protection. You can also adopt classic credenzas with a height of 70 to 80 cm. To properly protect your wall, an additional height is required to install the hood bottom in good conditions.
What are the main criteria for choosing a kitchen splashback?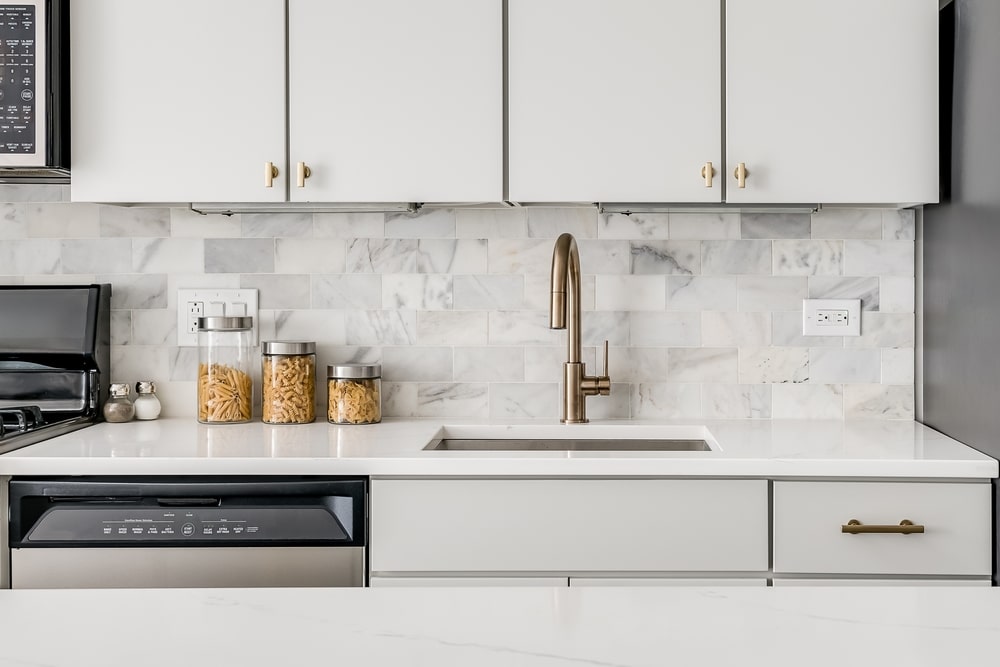 Robustness and ease of maintenance are the main selection criteria. The aesthetics, meanwhile, must blend perfectly with that of the worktop.
The material should also not be omitted. A wooden model breathes a friendly and original touch through the room. But it is not resistant to heat or humidity.
The splashback in laminated panel or tile is recognized by its great resistance to all the factors frequent in the kitchen. Moreover, it is a material that is both simple to install and maintain. This material can wonderfully decorate your kitchen space. In terms of appearance, it is similar to aluminium, slate and oak. There are also wax parquet models that stand out for their robustness.
Granite is a sturdy material and brings charm to the kitchen. However, it is a very expensive model. Corian seduces thanks to its resistance and its different colors. But just like granite, it is quite expensive.
The stainless steel or stainless steel splashback stands out for its resistance to humidity, shocks and heat. You can install it in peace behind your worktop to guarantee the protection of the wall and expect a modern note.
Stainless steel materials, on the other hand, bring various advantages, such as real comfort, perfect design, incomparable resistance, easy cleaning, remarkable quality at a low price, etc.
To create a beautiful harmony in your kitchen, the glass material is to be preferred. Moreover, this material is available in several models and colors, such as tempered glass, lacquered or mirror effect, the color in red, black, white, etc. Its cleaning is also simple.
The glass credenza has become more and more popular, especially the mirror effect. The latter is very trendy. If you want to add a sophisticated touch to your kitchen, opt for glass. You can also adopt a transparent glass hood bottom.
How to choose the right tiles for the splashbacks?
The wood material provides a natural effect to kitchens. The tiling remains a clever material in order to offer a decoration of the same style. It is used to cover the worktop and the wall of the kitchen. It is a material very appreciated for its resistance. It is also suitable for the bottom of a cooker hood, as it withstands heat, humidity and grease very well.
Floor tiles for tiles are generally distinguished by their aesthetics. There are models with a stone, wood, cement, marble, brick, slate or other appearance. Whichever model you choose, they are simple and quick to maintain. Indeed, cleaning with a sponge and water is enough to give your tiles a facelift.
It should be noted that laying the backsplash tiles does not require any particular skill. Some DIY knowledge is enough to set it up in the rules of the art. In all, you can do the laying of your kitchen tiles yourself to benefit from a suitable splashback.