In terms of interior decoration, the industrial style is nowadays popular with the French. It is particularly steeped in the atmosphere of 20th century workshops and factories while emphasizing practicality and a refined style. Its other particularity is that it mixes raw materials (metal, raw wood, waxed concrete, leather, reclaimed wood, brick, glass, etc.), textures and neutral colors in open spaces. It also evokes authenticity and robustness. If you want to integrate it into your dining room, we give you the steps to follow to achieve it.
Center piece of the dining room: choose your table well
For the factory style to be a brilliant addition to your dining room, you should first look at its heart: the table. It is recommended to choose a model consisting of a raw wooden top and metal legs. It is possible to find advice concerning the industrial style and to make a selection on this sitewhich specializes in fittings and quality indoor and outdoor furniture.
One of the star materials of the industrial style, wood, whatever its essence, gives the furniture a first-class aesthetic. It also allows it to combine its timeless charm, its nobility, its warmth, its rusticity and its authenticity. This natural material also gets better with time as long as it is cared for and treated properly. Its lively side makes you feel so at home. It also has the advantage of being resistant, robust and eco-friendly.
Regarding metal, it is inseparable from an industrial interior. Its major advantage is its high mechanical resistance and its non-deformability. Regardless of the weight of the tray, the metal legs can support it without difficulty. The same material is also intended to be elegant and in tune with the times.
If your dining room is square or rectangular, choose a table top which agrees with its straight lines. A rounded or oval model adapts to a room that has curves or is not very spacious. However, nothing prevents you from choosing an original shape for a bold style.
As it concerns the bases, those that are crossed, rectangular, in M ​​or in V lend themselves perfectly to an industrial interior. Be sure to choose them according to the shape of the tray. On the color side, the ideal is to bet on black. The height of the table legs should be between 70 and 72 cm, and their dimensions should be proportional to the table top.
Know that it is also possible for you to register your dining room in the factory style by choosing a polished concrete or glass table top. The latter adds a more refined and contemporary effect.
What type of chair to choose?
Ideally, you should pair your industrial table with factory-inspired iron or steel chairs. You can also opt for aluminum models which have the advantage of being stainless unlike the two previous materials which require specific treatment. They are lighter and therefore easy to move. Regardless of the type of metal you choose, it is recommended that you choose a black, weathered or brushed finish. To be in the theme, you can also invest in chairs made entirely of solid wood. Be sure to choose the same essence as that of the table top for obvious reasons of consistency.
If you hesitate between metal and wood, why not bet on chairs that combine these two typically industrial materials? You thus create a match harmonious if your dining table consists of a wooden top and a metal base. The leather and metal seats are also a safe bet. Also one of the flagship materials of the factory style, leather is appreciated for its sobriety, authenticity and chic appearance which will certainly create a workshop and loft atmosphere in your dining room. If your budget is quite limited, imitation is an excellent alternative.
If you like bistro chairs, then you can invite them around your industrial table. These seats have been brought up to date and will not fail to increase the conviviality of your dining area as well as its comfort. They sport a look that is both "frenchy", retro and vintage while breathing authenticity and having a side as warm as alive. If you have trouble choosing between the different chairs mentioned above or if you simply want to play the originality card, you can opt for mismatched chairs. Then you just have to combine several different models.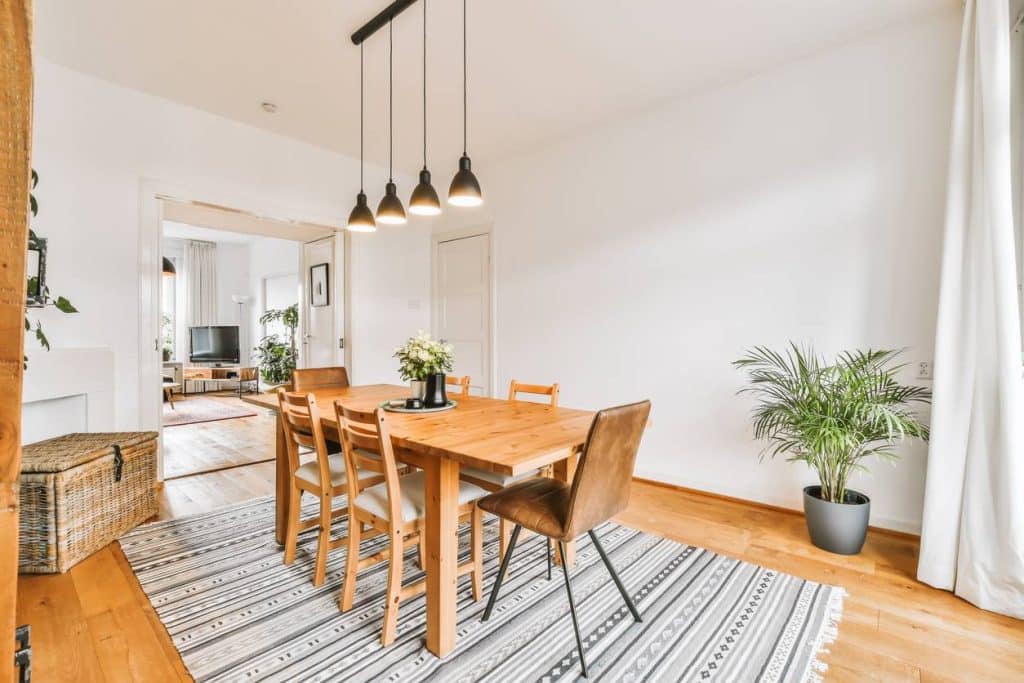 Complete the room with a beautiful industrial sideboard
The sideboard is a functional piece of storage furniture that plays an essential role in a dining room. It allows you to keep this convivial room orderly on a daily basis. You can store all the dishes, table linens and other things in it. It is also decorative furniture which is sure to beautify the space in which it is placed. It may have open storage compartments that allow you to display different decorative pieces. If it is completely closed, then you only have to take advantage of the top part to highlight pretty objects, but also green plants.
Anyway, to articulate your dining room around the industrial style, it is advisable to choose a rustic sideboard in solid wood or a factory model made of metal. Prefer it with a glass front if you want to combine decoration and storage. If you want to dedicate it to storage, a fully enclosed sideboard with a wooden front is an excellent choice. Otherwise, you can also bet on the combination of metal and wood. For example, you can choose a beautiful solid wood sideboard with metal legs and handles. Do you want to combine the factory style with modernity? It is relevant to choose a minimalist and refined model.