Choosing the right frame for your home is far from easy. It is necessary to seek to know the different existing types, their costs as well as their configurations. So, what do you need to know about framing before you start your construction work?
The traditional frame
The traditional frame is highly appreciated by the French. It is found on many old buildings. It is made up of different elements such as trusses, rafters, purlins and battens. In addition to being aesthetic, this structure is perfectly fire resistant. Its configuration is ideal for converting the attic. It can take several forms. This allows it to blend harmoniously into any decor. Its parts are pre-assembled on the ground to be assembled more quickly.
The realization of a traditional frame is very complex, because it is quite heavy on the building. In particular, very strict construction standards must be respected. The ideal is to call on a carpenter or a roof renovation professional for carpentry work so as not to take risks. The minimum cost of a traditional frame is 50 euros per square meter. The installation price varies between 40 and 100 euros per square meter.
The metal frame
The metal frame is very appreciated for its resistance. It is made up of trusses, oblique beams and ties attached by metal purlins. This type of frame is very light and provides excellent performance in terms of thermal and acoustic insulation. The metal frame is often sold as a kit. Its installation is quick and easy.
It is less expensive and offers many construction possibilities. Moreover, this frame requires very little maintenance. However, it does not properly resist fire, unlike a traditional frame. To offer it to you, it is necessary to count between 60 and 180 euros per square meter, without counting the installation costs.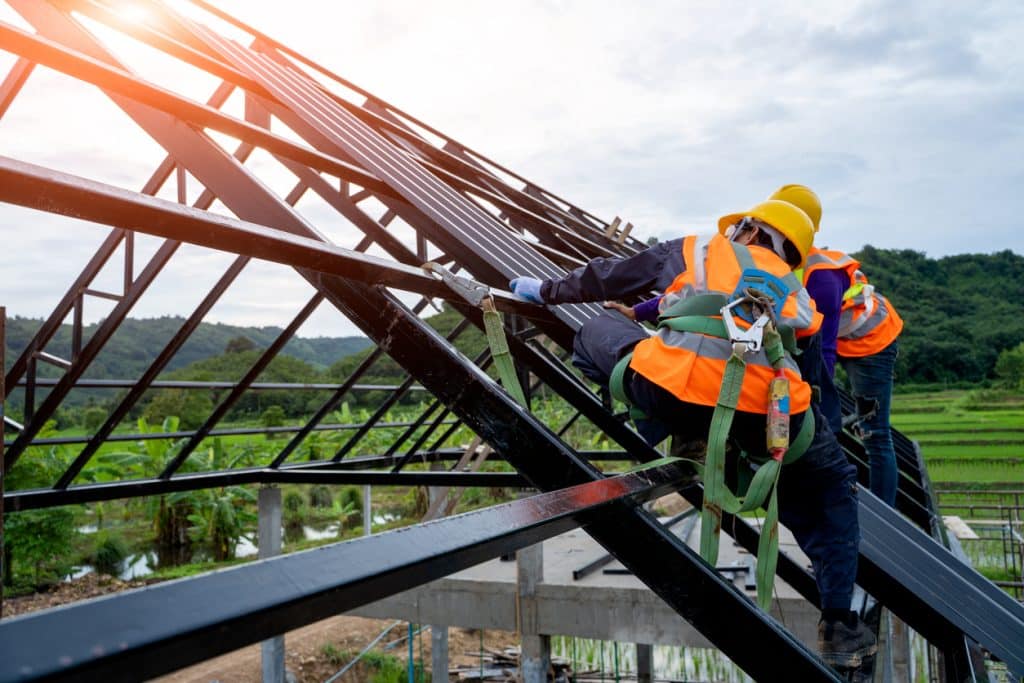 The farmhouse or industrial framework
As indicated by his name, the components of the industrial framework are factory pre-designed trusses. The latter are made of section wood and connected by metal connectors. This frame has the advantage of being light and solid. It is found on most new houses in France. Its design and installation are easy and quick. In addition, the quality/price ratio of an industrial frame is very interesting and this type of roof is completely waterproof.
However, it is less resistant to fire than the traditional frame. It should also be noted that not all farmhouses facilitate the development of the attic. This criterion must be taken into account throughout your choice. The price ofa truss frame varies from 50 to 70 euros per square meter, not including the cost of labor.
flat roof construction
Flat roof framing is often used in renovations. To facilitate the evacuation of rainwater, its inclination should be between 2 and 15 degrees. With this type of frame, you have several possibilities for roof layouts (inverted, terrace, garden, green, etc.).
It is very practical to create rooms under your roof without running out of space. Framing flat roof is also very aesthetic. Nevertheless, its cost remains high (120 euros per square meter) and its installation requires an urban planning prescription.